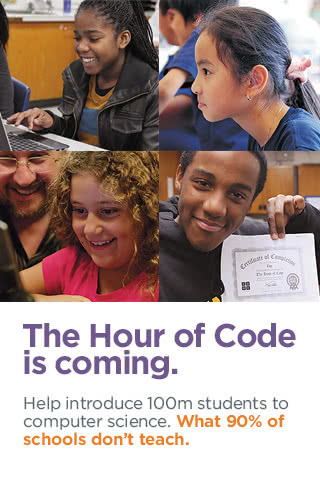 We live in a world surrounded by technology and we know that whatever field our students choose to go into as adults, their ability to succeed will hinge on understanding how technology works. But only a tiny fraction of us are learning computer science, and fewer students are studying it than a decade ago.
That's why Woodlin's PTA STEM Committee is trying to get all members of the 3rd, 4th, and 5th grades to join in on the largest learning event in history: The Hour of Code, during Computer Science Education Week (Dec. 7-13).
Since this will be the first year that Woodlin has participated in The Hour of Code, we're going to pilot the program with 3rd – 5th grades. We hope that next year we can have the whole school participate!
The schedule for this year's event will be as follows:

3rd Grade (3 classes): Tuesday, 12/8, 9:15-10:15
5th Grade (4 classes): Tuesday, 12/8,10:30-11:30
4th Grade (4 classes): Thursday, 12/10, 11:20-12:20
In order to make our first Hour of Code a success, we need parent and community volunteers who can help students in the classroom on the day of the event.
Volunteers do not need to have any coding experience!
The time commitment will be pretty small — an hour or so on the day of the event, and an hour or so one evening before the event for a training that will familiarize everyone with the hardware the kids will use and the activities they will be participating in.
We really need your help to make this event a success, so if you are interested please use the following link to sign up:
For more information about the Hour of Code, see http://hourofcode.com/us for details. It's going to be a great hour!